Elvis Presley and Priscilla Beaulieu were married on May 1, 1967 at the Aladdin Hotel in Las Vegas. It was a private affair, with a small group of family and friends. They signed for the license at about 3:30 a.m. Then just after 9:40 that morning, the ceremony was underway. It was an eight minute ceremony, with no frills…and as far as we know, there was no music. Promises were made to "love, honor, and comfort" each other. Priscilla didn't utter the "O" word. Her younger sister Michelle was the maid of honor; Elvis had 2 best men.
They danced to "Love Me Tender" at the wedding.
Four weeks after their wedding, they again donned their wedding clothes for a reception for family and friends who were not at the wedding. It was held at Graceland. There were many hurt feelings among those who could have attended the wedding but were not invited; this second reception was largely an attempt to appease them and soothe the hurt feelings, at which it was only partially successful.
An accordion player from the area, Tony Barrasso, circulated among the crowd at the reception taking requests from the guests; there was a dance band as well. Tony was a friend of Elvis' and had often been brought in to play for Elvis and his guests, especially at Christmas time.
In addition to playing Love Me Tender, Elvis asked Tony if he could play the Tennessee Waltz, adding that although he had never seen his father dance or drink, he was sure if Tony would play that song, it would coax his dad and his step-mother out on the dance floor. Sure enough, the ploy worked, as Elvis laughed uncontrollably and everyone in the room clapped with joy and celebration.
Elvis carried Priscilla across the threshold of their home in Los Angeles after they were married while singing "The Hawaiian Wedding Song."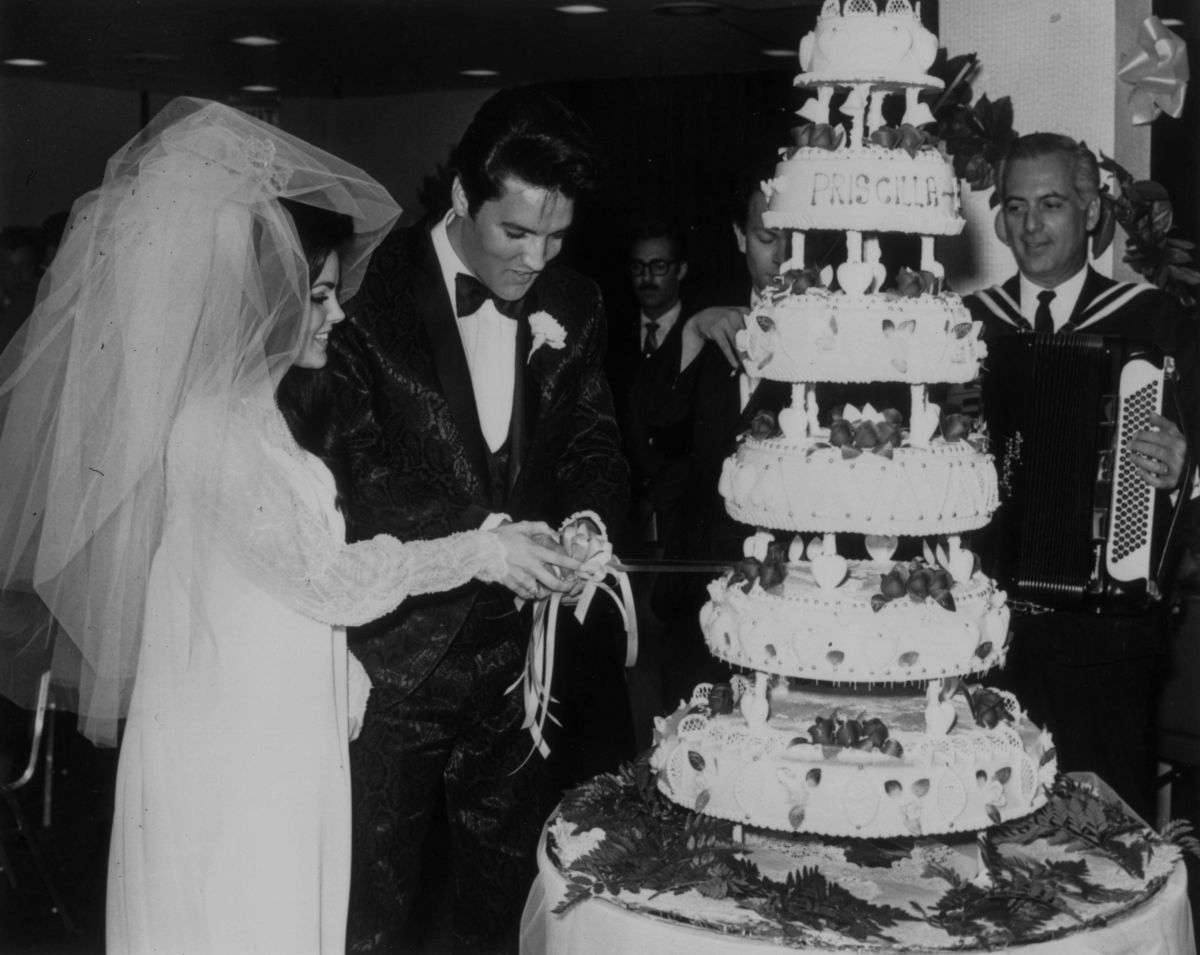 UPI Photo of Elvis & Priscilla with Tony Barrasso on accordion
Oddly, the UPI (United Press International) picture that circulated is taken at a slightly different angle, which just shows Priscilla, Elvis, and the violin player hidden behind the cake. Tony got cropped out.
*Information from Roman Possedi verified from "Memphis accordion virtuoso reveals close musical encounters with Elvis" by Michael Donahue, August 12, 2010 and other sources.